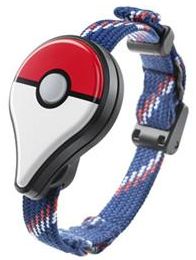 By now, I'm sure you've heard more than a few stories about people succumbing to disaster while playing Pokemon Go. The engrossing mobile app demands constant attention when trying to capture a Pokemon, and this has lead to some players walking right into traffic… or right off a cliff.
Possibly foreseeing these problems, Nintendo and The Pokemon Company have been hard at work on the Pokemon Go Plus, a companion peripheral that is supposed to enhance your Pokemon Go experience. Connecting to your smartphone via Bluetooth, the Pokemon Go Plus is supposed to alert players when they're near a PokeStop or Pokemon. The peripheral was expected to launch shortly after the app, but Nintendo has been rather silent about its release date… until now.
Writing on Twitter, Nintendo has confirmed the Pokemon Go Plus will be available in September:
The #PokemonGO Plus accessory will now be released Sept 2016 instead of the originally expected end of July launch. https://t.co/QgjZf1aAV6

— Nintendo of America (@NintendoAmerica) July 27, 2016
The Pokemon Go Plus will retail for $34.99 when it's released.