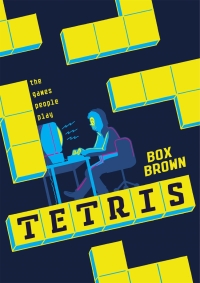 Most people know that Alexey Pajitnov created Tetris while working for the Soviet government in the early 80s, but the story will be retold this October in a brand new graphic novel by Box Brown.
Tetris: The Games People Play will be published by the Macmillan imprint First Second, and it'll reveal the story behind the game's creation and the subsequent legal battle over distribution rights to the puzzle game outside the USSR:
Alexey Pajitnov had big ideas about games. In 1984, he created Tetris in his spare time while developing software for the Soviet government. Once Tetris emerged from behind the Iron Curtain, it was an instant hit. Nintendo, Atari, Sega—game developers big and small all wanted Tetris. A bidding war was sparked, followed by clandestine trips to Moscow, backroom deals, innumerable miscommunications, and outright theft.

New York Times–bestselling author Box Brown untangles this complex history and delves deep into the role games play in art, culture, and commerce. For the first time and in unparalleled detail, Tetris: The Games People Play tells the true story of the world's most popular video game.
Brown has experience with finding larger-than-life figures from pop culture and adapting their lives into graphic novels. The writer and artist was previously responsible for Andre the Giant: Life and Legend, a well-received graphic novel that was originally published in 2014.
Meanwhile, Pajitnov seems to a popular biography subject these days. Director Brett Ratner announced plans to develop a film based on the developer's life last year, and Interestingly enough, the untitled film will also feature an emphasis on the court case surrounding Tetris.
Tetris: The Games People Play will be available on store shelves on October 11.