Let me start out by saying that Crashlands is not my kind of game. Resource collection and building, even when accompanied by quests, just don't draw me in. But St. Louis-based Butterscotch Shenanigans has done the unthinkable and gotten me to play a crafting game, largely thanks to Crashlands' charming art style, delightful soundtrack, and witty dialogue.
Platforms: Mobile, PC (Version Played)
Publisher: Butterscotch Shenanigans
Developer: Butterscotch Shenanigans
Genre: Adorable Exploration/Crafting Action RPG
Release Date: January 21, 2016
ESRB Rating: Not Rated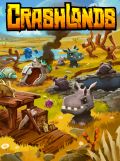 Crashlands – which is available on both PC and mobile – is an action role-playing game with crafting elements, bringing together several genres and delivering a unique experience. You play as Flux Dabes, whose spaceship is attacked and destroyed by an alien named Hewgodooko. Stealing technology from her ship and leaving her stranded, the villain returns to the nearby planet, and Flux chases him there to try to contact the Bureau of Shipping to let her know that her delivery will be a little behind.
Flux wanders the planet of Woanope, killing monsters, gathering resources, and building better equipment to make those tasks even easier. Her robotic sidekick, JuiceBox, is always full of helpful anecdotes – and a lot of sass. Along the way, the duo can pick up sidequests, or just focus on the main quest. So far, I've done a little of everything, gathering as many resources as I can and then knocking out several quests at a time. There are multiple stations to be built, with dozens of items, including materials to build a base, weapons, armor, and, of course, hilarious decorations, including life-like dolls of the local monsters.
The developer is also currently working on a modding tool for the game, in which players can make their own campaigns through a "BscotchID-powered modding tool," which they affectionately call the Crashlands Creator. This will allow players to "create your own stories, use mutators to change the core mechanics of the game, and generally take what we've made and do horrible, wonderful things to it." And the best part is that it's available on both PC and mobile versions of the game.
Oh, and I forgot to mention my favorite part: you can have pets in the game. While you're out harvesting resources, you can also gather eggs, bring them back to your base, and incubate them, creating adorable pets that follow you around. I was worried they would be nothing but cute, but they're also quite deadly as well, and very helpful when I'm up against multiple enemies.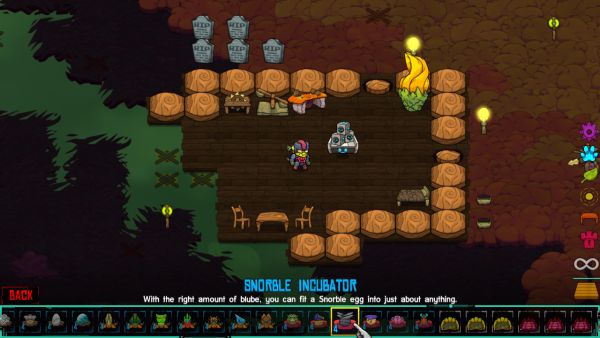 Crashlands was part of the PAX 10 on the show floor at this year's PAX West, and their stations were constantly packed. Carol Mertz, Butterscotch Shenanigans' business developer and community manager, explained how they were able to show a cross-section of the game on the show floor: "We used the creator tool to make a self-contained 10-minute demo that made it really clear that it was just a tiny taste of the game," she said. This meant players "didn't really get into build mode or equipping much," though they found that some ended up playing "for 30 minutes, because they just ran around sandbox-style."
After playing this game for hours, I'm impressed that they were able to condense so much of what's beautiful, fun, and just plain rad about this game into a playable demo that not only captured people walking by, but kept players stationary for 30 minutes – which is an eternity on a show floor like PAX. But stay and play they did, and afterwards, I'm sure many of them went home and played it more.
I can't recommend Crashlands enough, especially for those of you who are into games like Terraria but want a little more structure and adventure. It's available to download on Steam right now, and if you like it enough, you can also grab the soundtrack. Now, if you'll excuse me, I have some packages that need delivering.