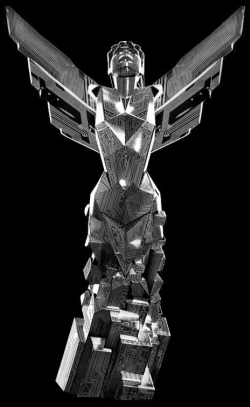 We're rapidly approaching the end of the year, and that means the 2016 Game Awards are right around the corner. The Game Awards will once again be produced and hosted by Geoff Keighley, who will honor this year's best games and look to the future with a number of huge World Premieres, including the first gameplay footage from BioWare's Mass Effect: Andromeda.
Before we blast off to a far away galaxy, let's stop and recognize Uncharted 4: A Thief's End, which received eight nominations this year from the Game Awards Advisory Board. In addition to "Game of the Year," Nathan Drake's final adventure is also up for "Best Game Direction," "Best Art Direction," "Best Narrative," and "Best Action/Adventure Game," along with a "Best Performance" nomination for all three of the game's main performers.
Uncharted 4 will compete with some of 2016's biggest titles for "Game of the Year" at the 2016 Game Awards including Doom, Inside, Overwatch, and Titanfall 2.
"The Game Awards is all about celebrating the state of video game art," said Keighley. "In just a few short weeks we will recognize the most outstanding games of 2016 in unexpected ways, and preview the most anticipated games of 2017 and beyond with the longest, most in-depth world premieres we've ever attempted… including surprises and new game announcements."
The Game Awards will be held on December 1 at 9:00 PM (Eastern Time), and fans can watch the show through their favorite video streaming service or at TheGameAwards.com. The full list of nominees can be found after the break.
Jury Voted

Game of the Year
For a game that delivers the absolute best experience across all creative and technical fields.

Doom (id Software/Bethesda)
Inside (Playdead)
Overwatch (Blizzard)
Titanfall 2 (Respawn/Electronic Arts)
Uncharted 4: A Thief's End (Naughty Dog/Sony Interactive Entertainment)

Best Game Direction
Recognizing a game studio for outstanding creative vision, game direction and design.

Blizzard (for Overwatch)
DICE (for Battlefield 1)
id Software (for Doom)
Naughty Dog (for Uncharted 4: A Thief's End)
Respawn (for Titanfall 2)

Best Narrative
For outstanding storytelling and narrative development in a game.

Firewatch (Campo Santo)
Inside (Playdead)
Mafia III (Hangar 13/2K Games)
Oxenfree (Night School Studio)
Uncharted 4: A Thief's End (Naughty Dog/SIE)

Best Art Direction
For outstanding creative and technical achievement in artistic design and animation.

Abzu (Giant Squid/505)
Firewatch (Campo Santo)
Inside (Playdead)
Overwatch (Blizzard)
Uncharted 4: A Thief's End (Naughty Dog/SIE)

Best Music/Sound Design
For outstanding audio, inclusive of score, original song, licensed soundtrack and sound design.

Battlefield 1 (DICE/EA)
Doom (id/Bethesda)
Inside (Playdead)
Rez Infinite (Enhance Games)
Thumper (Drool)

Best Performance
Awarded to an individual for voice-over acting, motion and/or performance capture.

Alex Hernandez as Lincoln Clay (for Mafia III)
Cissy Jones as Delilah (for Firewatch)
Emily Rose as Elena (for Uncharted 4: A Thief's End)
Nolan North as Nathan Drake (for Uncharted 4: A Thief's End)
Rich Summer as Henry (for Firewatch)
Troy Baker as Sam Drake (for Uncharted 4: A Thief's End)

Games For Impact
Honoring exemplary games that take on real-world issues and advocate for social change.

1979 Revolution (iNK Stories)
Block'hood (Plethora Project/Devolver Digital)
Orwell (Osmotic Studios/Surprise Attack)
Sea Hero Quest (Glitchers)
That Dragon, Cancer (Numinous Games)

Best Independent Game
For outstanding achievement in a game made outside the traditional publisher system.

Firewatch (Campo Santo)
Hyper Light Drifter (Heart Machine)
Inside (Playdead)
Stardew Valley (ConcernedApe/Chucklefish Games)
The Witness (Thelka)

Best Mobile/Handheld
For the best game playable on mobile phones and dedicated gaming handhelds.

Clash Royale (Supercell)
Fire Emblem Fates (Intelligent Systems/Nintendo)
Monster Hunter Generations (Capcom)
Pokemon Go (Niantic)
Severed (DrinkBox Studios)

Best VR Game
For the best game experience playable in virtual reality.

Batman: Arkham VR (Rocksteady Studios/WBIE)
Eve: Valkyrie (CCP Games)
Job Simulator (Owlchemy Labs)
Rez Infinite (Enhance Games)
Thumper (Drool)

Best Action Game
For the best game experience focused around first or third person combat.

Battlefield 1 (DICE/EA)
Doom (id Software/Bethesda Softworks)
Gears of War 4 (The Coalition/Microsoft Studios)
Overwatch (Blizzard)
Titanfall 2 (Respawn/EA)

Best Action/Adventure Game
For the best game experience that combines combat with traversal and puzzle solving.

Dishonored 2 (Arkane Studios/Bethesda Softworks)
Hitman (IO Interactive/Square Enix)
Hyper Light Drifter (Heart Machine)
Ratchet & Clank (Insomniac Games/Sony Interactive Entertainment)
Uncharted 4: A Thief's End (Naughty Dog/Sony Interactive Entertainment)

Best RPG
The best game designed for rich player character customization and progression, both offline and online, including massively multiplayer.

Dark Souls III (FromSoftware/Bandai Namco Entertainment)
Deus Ex: Mankind Divided (Eidos Montreal/Square Enix)
The Witcher 3: Wild Hunt — Blood and Wine (CD Projekt RED)
World of Warcraft: Legion (Blizzard)
Xenoblade Chronicles X (Monolith Soft/Nintendo)

Best Fighting Game
For a game designed primarily around head-to-head combat.

Killer Instinct Season 3 (Iron Galaxy Studios/Microsoft Studios)
King of Fighters XIV (SNK/Atlus USA)
Pokken Tournament (Bandai Namco Studios/The Pokemon Company)
Street Fighter V (Capcom)

Best Strategy Game
Best game focused on real time or turn-based strategy.

Civilization VI (Firaxis Games/2K Games)
Fire Emblem Fates (Intelligent Systems/Nintendo)
The Banner Saga 2 (Stoic Studio/Versus Evil)
Total War: Warhammer (Creative Assembly/Sega)
XCOM 2 (Firaxis Games/2K Games)

Best Family Game
Best game for family play, including toys-to-life, rhythm/music/dance, and other genres.

Dragon Quest Builders (Square Enix)
Lego Star Wars: The Force Awakens (TT Fusion/WBIE)
Pokemon Go (Niantic)
Ratchet & Clank (Insomniac Games/Sony Interactive Entertainment)
Skylanders: Imaginators (Toy for Bob/Activision)

Best Sports/Racing
For traditional and non-traditional sports and racing games.

FIFA 17 (EA Canada/EA Sports)
Forza Horizon 3 (Playground Games/Microsoft Studios)
MLB The Show 16 (SCE San Diego Studio/SIE)
NBA 2K17 (Visual Concepts/2K Sports)
Pro Evolution Soccer 2017 (PES Productions/Konami)

Best Multiplayer
For outstanding online multiplayer gameplay and design, including co-op and massively multiplayer experiences.

Battlefield 1 (DICE/EA)
Gears of War 4 (The Coalition/Microsoft Studios)
Overcooked (Ghost Town Games/Team 17)
Overwatch (Blizzard)
Titanfall 2 (Respawn/EA)
Tom Clancy's Rainbow Six: Siege (Ubisoft Montreal/Ubisoft)

Fan's Choice

Most Anticipated Game
An upcoming game that has shown significant ambition and promise in moving the gaming medium forward.

God of War (Santa Monica Studio/Sony Interactive Entertainment)
Horizon: Zero Dawn (Guerrilla Games/Sony Interactive Entertainment)
Mass Effect: Andromeda (Bioware/EA)
Red Dead Redemption 2 (Rockstar Games)
The Legend of Zelda: Breath of the Wild (Nintendo)

Best eSports Game
The eSports game that has shown creative and technical excellence in 2016 with the best gameplay, community support and content updates.

Counter-Strike: Global Offensive (Valve)
DOTA 2 (Valve)
League of Legends (Riot)
Overwatch (Blizzard)
Street Fighter V (Capcom)

Best eSports Player (Presented By Omen By HP)
The eSports player judged to be the most outstanding performer in 2016, irrespective of game.

Faker – Lee Sang-Hyeok (SK Telecom T1, League of Legends)
Coldzera – Marcelo David (SK Gaming, Counter-Strike: Global Offensive)
ByuN – Hyun Woo (Starcraft II)
Infiltration – Lee Seon-Woo (Team Razer, Street Fighter V)
Hungrybox – Juan Debiedma (Team Liquid, Super Smash Bros.)

Best eSports Team
The eSports team or organization judged to be the most outstanding for performance in 2016, irrespective of game.

SK Telecom T1 (League of Legends)
Wings Gaming (DOTA 2)
SK Gaming
ROX Tigers (League of Legends)
Cloud 9

Best Fan Creation
For fan-created content, such as Mods, fan films, and other player content.

Project A2MR
Pokemon Uranium
Brutal Doom 64
Enderal: The Shards of Order

Trending Gamer (Presented By Intel)
For a notable influencer, online streamer or media personality in 2016.

AngryJoeShow
Boogie2988
Danny O'Dwyer
JackSepticEye
Lirik