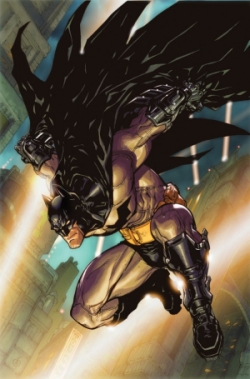 Most fans of Rocksteady's critically-acclaimed Batman: Arkham trilogy took a pass on WB Montreal's prequel, Batman: Arkham Origins, which was originally released three years ago. Since then, the developer has been quietly working on two other games set in the DC Universe… but one of them has likely met its demise.
According to a new report on Kotaku, WB Montreal had been working on the Suicide Squad game (which was also hinted at during Arkham Origins's end credits). However, the supervillain team-up was canceled so the developer could devote more time to their other project, Batman: Damian Wayne:
We don't know much about WB Montreal's Damian Wayne game, which was also rumored earlier this year. We'd originally heard that it would be revealed at the beginning of December, but given the studio shakeup, it's not surprising that they haven't announced it yet. This Batman game may not be out for a while.
In DC Comics canon, Damian Wayne is the son of Bruce Wayne and Talia Al Ghul. Like his mother (and, let's be honest here, his father), Damian is a tad unhinged. So as a teenager, he reunited with his father to learn how to fight crime. Presumably, this is the angle that WB Montreal's game will take.
But as Kotaku believes, it might be a while before we hear anything official about Batman: Damian Wayne from WB Games.