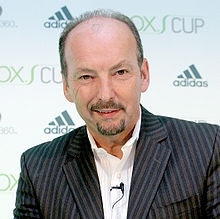 Only a small handful of video game executives can be considered "household names," but I think it's safe to say that Peter Moore belongs in that club.
Moore's working life began with almost two decades of service at Reebok before he joined Sega in 1999. Though he didn't have a video game background, Moore helped launch Sega's Dreamcast, and eventually moved the company out of the console business altogether. He became a fixture at the E3 Expo after signing with Microsoft in 2003, and his colorful antics (including getting a tattoo of the Halo logo to promote Halo 2's release date) endeared him to the public.
Moore moved on again in 2007 and took over EA Sports as its President. Ultimately, he would ascend the corporate ladder and become the company's Chief Operating Officer, as well as the "Chief Competition Officer" for EA's eSports efforts. But now, the video game industry has to say goodbye to Peter Moore because he's leaving Electronic Arts to become the CEO of the Liverpool Football Club.
Andrew Wilson, EA's CEO, shared a few thoughts on EA.com about Moore's departure:
Peter has been with us here at EA for nearly 10 years, and I consider myself privileged to have had the opportunity to work alongside him for that entire journey. If you've seen him on stage, or follow him on Twitter, or have ever read an interview with him, you will have a sense of Peter's wit and charisma. What you should also know is that he is an unbelievable teammate, a tireless leader for our people, and his deep appreciation for great games and the passionate players in our communities is unwavering.

Above all, through his time at EA, Microsoft and Sega, Peter has been a statesman and advocate for our industry.
Moore was pretty busy during his last few weeks at EA, announcing Madden NFL 18, FIFA 18, NHL 18, NBA Live 18, and EA Sports UFC 3 earlier this month.