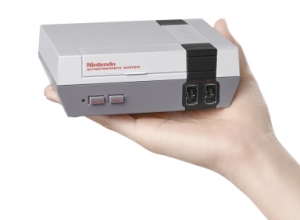 This is surprising…
In a statement provided to IGN, Nintendo has confirmed that production of the NES Classic Edition will soon be discontinued:
"Throughout April, NOA territories will receive the last shipments of Nintendo Entertainment System: NES Classic Edition systems for this year. We encourage anyone interested in obtaining this system to check with retail outlets regarding availability. We understand that it has been difficult for many consumers to find a system, and for that we apologize. We have paid close attention to consumer feedback, and we greatly appreciate the incredible level of consumer interest and support for this product."

"NES Classic Edition wasn't intended to be an ongoing, long-term product. However, due to high demand, we did add extra shipments to our original plans."
The NES Classic Edition was originally released on November 11, and came packed with 30 well-known titles from the Nintendo Entertainment System's heyday. Fans fell in love with the microconsole and supply quickly exceeded demand. Even today, the NES Classic Edition is next-to-impossible to find on store shelves. So it's a bit baffling that Nintendo is already doing away with such a successful product.
However, Nintendo also launched the Switch this past March, and the consolemaker has likely decided to pour their considerable marketing muscle towards this new platform.
You can currently purchase an NES Classic Edition from a third-party seller on Amazon for $220. I wouldn't expect that price to drop any lower anytime soon.