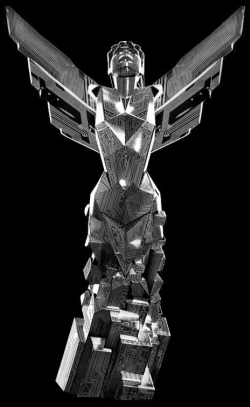 The unprecedented success of the Nintendo Switch has been THE story of 2017, and not surprisingly, Nintendo's latest console is well represented among the nominations for the 2017 Game Awards.
The Legend of Zelda: Breath of the Wild and Super Mario Odyssey received six nominations apiece, and both will be competing for "Game of the Year." PlayerUnknown's Battlegrounds, Atlus's Persona 5, and Guerrilla's Horizon: Zero Dawn (which also received six total nominations) were also nominated for the prestigious award.
A grand total of 102 games and individuals were nominated for at least one award as part of this year's ceremony, and several games are looking to take home a lot of hardware including Destiny 2 (six nominations), Studio MDHR's Cuphead (five nominations), and Bethesda's Wolfenstein II: The New Colossus (four nominations).
The Game Awards will be held on December 7 at 9:00 PM (Eastern Time), and fans can watch the show through their favorite video streaming service or at TheGameAwards.com. The full list of nominees can be found after the break.
Jury Voted Categories

Game of The Year
Recognizing a game that delivers the absolute best experience across all creative and technical fields.

The Legend of Zelda: Breath of the Wild (Nintendo EPD / Nintendo)
Super Mario Odyssey (Nintendo EPD / Nintendo)
PlayerUnknown's Battlegrounds (PUBG Corp.)
Persona 5 (Atlus)
Horizon: Zero Dawn (Guerrilla Games / Sony Interactive Entertainment)

Best Game Direction
Awarded to a game studio for outstanding creative vision and innovation in game direction and design.

Wolfenstein II: The New Colossus (MachineGames / Bethesda)
Resident Evil 7: Biohazard (Capcom)
The Legend of Zelda: Breath of the Wild (Nintendo EPD / Nintendo)
Super Mario Odyssey (Nintendo EPD / Nintendo)
Horizon: Zero Dawn (Guerrilla Games / Sony Interactive Entertainment)

Best Narrative
For outstanding storytelling and narrative development in a game.

What Remains of Edith Finch (Giant Sparrow / Annapurna Interactive)
Nier: Automata (Platinum Games / Square Enix)
Hellblade: Senua's Sacrifice (Ninja Theory)
Wolfenstein II: The New Colossus (MachineGames / Bethesda)
Horizon: Zero Dawn (Guerrilla Games / Sony Interactive Entertainment)

Best Art Direction
For outstanding creative and/or technical achievement in artistic design and animation.

Destiny 2 (Bungie / Activision)
Cuphead (Studio MDHR)
The Legend of Zelda: Breath of the Wild (Nintendo EPD / Nintendo)
Persona 5 (Atlus)
Horizon: Zero Dawn (Guerrilla Games / Sony Interactive Entertainment)

Best Score/Music
For outstanding music, inclusive of score, original song and/or licensed soundtrack.

Destiny 2 (Bungie / Activision)
Cuphead (Studio MDHR)
Nier: Automata (Platinum Games / Square Enix)
The Legend of Zelda: Breath of the Wild (Nintendo EPD / Nintendo)
Super Mario Odyssey (Nintendo EPD / Nintendo)
Persona 5 (Atlus)

Best Audio Design
Recognizing the best in-game audio and sound design.

Destiny 2 (Bungie / Activision)
Hellblade: Senua's Sacrifice (Ninja Theory)
Resident Evil 7: Biohazard (Capcom)
The Legend of Zelda: Breath of the Wild (Nintendo EPD / Nintendo)
Super Mario Odyssey (Nintendo EPD / Nintendo)

Best Performance
Awarded to an individual for voice-over acting, motion and/or performance capture.

Melina Juergens, Hellblade (As Senua)
Laura Bailey, Uncharted: The Lost Legacy (As Nadine Ross)
Claudia Black, Uncharted: The Lost Legacy (As Chloe Frazer)
Brian Bloom, Wolfenstein II: The New Colossus (As BJ Blazkowicz)
Ashly Burch, Horizon: Zero Dawn (As Aloy)

Games for Impact
For a thought provoking game with a profound pro-social meaning or message.

Please Knock on My Door (Levall Games)
Night in the Woods (Infinite Fall)
Life Is Strange: Before the Storm (Deck Nine / Square Enix)
Bury Me, My Love (The Pixel Hunt/Figs, ARTE)
What Remains of Edith Finch (Giant Sparrow / Annapurna Interactive)
Hellblade: Senua's Sacrifice (Ninja Theory)

Best Ongoing Game
Awarded to a game for outstanding development of ongoing content that evolves the player experience over time.

Warframe (Digital Extremes)
Tom Clancy's Rainbow Six: Siege (Ubisoft Montreal / Ubisoft)
Overwatch (Blizzard)
Grand Theft Auto V (Rockstar Games)
Destiny 2 (Bungie / Activision)
PlayerUnknown's Battlegrounds (PUBG Corp.)

Best Mobile Game
For the best game playable on a dedicated mobile device.

Super Mario Run (Nintendo)
Old Man's Journey (Broken Rules)
Monument Valley 2 (Ustwo Games)
Hidden Folks (Adriaan de Jongh / Sylvain Tegroeg)
Fire Emblem Heroes: Shadows of Valentia (Intelligent Systems / Nintendo)

Best Handheld Game
For the best game playable on a dedicated portable gaming system.

Poochy and Yoshi's Woolly World (Good-Feel / Nintendo)
Monster Hunter Stories (Marvelous / Nintendo)
Metroid: Samus Returns (MercurySteam / Nintendo)
Fire Emblem: Echoes (Intelligent Systems / Nintendo)
Ever Oasis (Grezzo / Nintendo)

Best VR/AR Game
For the best game experience playable in virtual or augmented reality, irrespective of platform.

Superhot VR (SUPERHOT Team)
Star Trek: Bridge Crew (Red Storm Entertainment / Ubisoft)
Lone Echo / Echo Arena (Ready at Dawn / Oculus Studios)
Farpoint (Impuse Gear / Sony Interactive Entertainment)
Resident Evil 7: Biohazard (Capcom)

Best Action Game
For the best game in the action genre focused on combat.

Prey (Arkane / Bethesda)
Nioh (Team Ninja / Sony Interactive Entertainment)
Destiny 2 (Bungie / Activision)
Cuphead (Studio MDHR)
Wolfenstein II: The New Colossus (MachineGames / Bethesda)

Best Action/Adventure Game
For the best action/adventure game, combining combat with traversal and puzzle solving.

Uncharted: The Lost Legacy (Naughty Dog / Sony Interactive Entertainment)
Assassin's Creed: Origins (Ubisoft Montreal / Ubisoft)
The Legend of Zelda: Breath of the Wild (Nintendo EPD / Nintendo)
Super Mario Odyssey (Nintendo EPD / Nintendo)
Horizon: Zero Dawn (Guerrilla Games / Sony Interactive Entertainment)

Best Role Playing Game
For the best game designed with rich player character customization and progression, including massively multiplayer experiences.

South Park: The Fractured But Whole (Ubisoft San Francisco / Ubisoft)
Final Fantasy XV (Square Enix Business Division 2 / Square Enix)
Divinity: Original Sin 2 (Larian Studios)
Nier: Automata (Platinum Games / Square Enix)
Persona 5 (Atlus)

Best Fighting Game
For the best game designed primarily around head-to-head combat.

Tekken 7 (Bandai Namco Studios / Bandai Namco Entertainment)
Nidhogg 2 (Messhof Games)
Marvel vs. Capcom: Infinite (Capcom)
Injustice 2 (NetherRealm Studios / Warner Bros. Interactive)
Arms (Nintendo EPD / Nintendo)

Best Family Game
For the best game appropriate for family play, irrespective of genre or platform.

Splatoon 2 (Nintendo EPD / Nintendo)
Sonic Mania (PagodaWest Games + Headcannon / Sega)
Mario + Rabbids Kingdom Battle (Ubisoft Paris + Milan / Ubisoft)
Mario Kart 8 Deluxe (Nintendo EAD / Nintendo)
Super Mario Odyssey (Nintendo EPD / Nintendo)

Best Strategy Game
Best game focused on real time or turn-based strategy gameplay, irrespective of platform.

XCOM 2: War of the Chosen (Firaxis Games / 2K)
Tooth and Tail (Pocketwatch Games)
Total War: Warhammer II (Creative Assembly / Sega)
Halo Wars 2 (Creative Assembly + 343 Industries / Microsoft Studios)
Mario + Rabbids Kingdom Battle (Ubisoft Paris + Milan / Ubisoft)

Best Sports/Racing Game
For the best traditional and non-traditional sports and racing game.

Project CARS 2 (Slightly Mad Studios / Bandai Namco Entertainment)
Pro Evolution Soccer 2018 (PES Productions / Konami)
NBA 2K18 (Visual Concepts / 2K Sports)
Gran Turismo Sport (Polyphony Digital / Sony Intetactive Entertainment)
Forza Motorsport 7 (Turn 10 Studios / Microsoft Studios)
FIFA 18 (EA Vancouver / EA)

Best Multiplayer
For outstanding online multiplayer gameplay and design, including co-op and massively multiplayer experiences, irrespective of game genre.

Fortnite (Epic Games)
Call of Duty: WWII (Sledgehammer Games / Activision)
Splatoon 2 (Nintendo EPD / Nintendo)
Mario Kart 8 Deluxe (Nintendo EAD / Nintendo)
Destiny 2 (Bungie / Activision)
PlayerUnknown's Battlegrounds (PUBG Corp.)

Best Independent Game
For outstanding creative and technical achievement in a game made outside the traditional publisher system.

Pyre (Supergiant Games)
Night in the Woods (Infinite Fall)
Cuphead (Studio MDHR)
What Remains of Edith Finch (Giant Sparrow / Annapurna Interactive)
Hellblade: Senua's Sacrifice (Ninja Theory)

Best Student Game
Awarded the best student project created at the high school or college level.

Meaning (Hariz Yet; DigiPen Institute of Technology Singapore)
Level Squared (Kip Brennan, Stephen Scoglio, Dane Perry Svendsen; Swinburne University of Technology)
Impulsion (Hugo Verger, Rémi Bertrand, Maxime Lupinski; IIM – Institut de l'Internet et du Multimédia)
Falling Sky (Jonathan Nielssen, Nikolay Savov, Mohsen Shah; National Film and Television School)
Hollowed (Erin Marek, Jerrick Flores, Charley Choucard; University of Central Florida – Florida Interactive Entertainment Academy)
From Light (Alejandro Grossman, Steven Li, Sherveen Uduwana; University of Southern California)

Fan Voted Categories

Most Anticipated Game
Awarded to an upcoming game that has shown significant ambition and promise. Title must be announced and scheduled for release after December 7, 2017.

The Last of Us Part II (Naughty Dog / Sony Interactive Entertainment)
Red Dead Redemption II (Rockstar Games)
Monster Hunter: World (Capcom)
Marvel's Spider-Man (Insomniac Games / Sony Interactive Entertainment)
God of War (Santa Monica Studio / Sony Interactive Entertainment)

Trending Gamer
For a streamer, influencer or media member who has made an important impact on the industry this calendar year.

Steven Spohn (AbleGamers)
Mike Grzesiek (Shroud)
Guy Beahm (Dr. Disrepect)
Clint Lexa ("Halfcoordinated")
Andrea Rene (What's Good Games)

Best Esports Game
For the game that has delivered the best overall eSports experience to players (inclusive of tournaments, community support and content updates), irrespective of genre or platform.

Rocket League (Psyonix)
League of Legends (Riot Games)
DOTA 2 (Valve)
Counter-Strike: Global Offensive (Valve)
Overwatch (Blizzard)

Best Esports Player (Presented by Omen by HP)
The eSports player judged to be the most outstanding performer in 2017, irrespective of game.

Kuro "KuroKy" Salehi Takhasomi (Team Liquid, DOTA 2)
Je-hong "ryujehong" Ryu (Seoul Dynasty, Overwatch)
Nikola "NiKo" Kovac (FaZE Clan, Counter-Strike: Global Offensive)
Marcelo "coldzera" David (SK Gaming, Counter-Strike: Global Offensive)
Lee Sang-Hyeok "Faker" (SK Telecom 1, League of Legends)

Best Esports Team
The eSports team judged to be the most outstanding for performance in 2017, inclusive of multi-team organizations.

Team Liquid
SK Telecom 1
Lunatic-Hai
FaZe Clan
Cloud 9

Best Debut Indie Game (Presented by Schick Hydro)
Recognizing a new independent studio that released its first game in 2017.

Slime Rancher (Monomi Park)
Mr. Shifty (Team Shifty)
Hollow Knight (Team Cherry)
Golf Story (Sidebar Games)
Cuphead (Studio MDHR)

Best Chinese Game
A fan-voted award to recognize the most popular game in China, as judged by The Game Awards viewers in China.

Monument Valley 2 (Ustwo Games)
JX3 HD (Kingsoft Corporation)
Gumballs (QcPlay Limited)
ICEY (FantaBlade Network)
King Of Glory (Timi Studio Group)