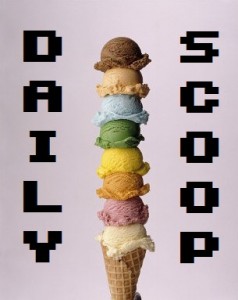 It's all about Amazon Deals in today's Daily Scoop. First up, they've got up to 40% off Disney games. The pickings are pretty slim, unless you're like me and you love Disney: Sing It games. They are super fun!
Next up is the Amazon Deal of the Day in video games, which is the DJ Hero 2 Party Bundle. Originally priced at $129.99, you can get it today for 23% off at $99.99.
But the REAL deals will be starting at midnight (Pacific Time) tonight, when Amazon goes live with another All Video Games Gold Box Event. All day tomorrow – that's Tuesday, January 18th – the Gold Box deals will be nothing but video games. The link goes to a bunch of electronics deals right now, but we'll bring you more information on all of tomorrow's game deals as soon as we have it.
To round this out with something cute, check out today's shirt.w00t – I know our editor, John Scalzo, will get a kick out of it.
"Freeze, rebel scum! Drop those plans immediately or OOPS! Hold your wamp rats, TK-80085. Don't want to cross against the light now, do we?"