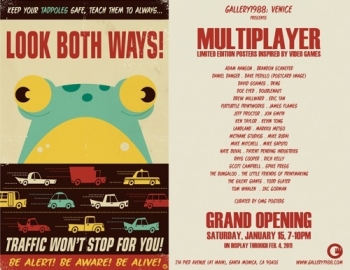 Gallery1988, an art gallery in the Venice neighborhood of Los Angeles, launched a new exhibit last night titled "Multiplayer", which consists of limited edition posters inspired by video games. The exhibit includes the awesome Frogger PSA poster to your left as well as prints based on The Legend of Zelda, Final Fantasy, Tetris, Silent Hill and Duck Hunt.
If you don't live in California, you can check out some of the posters at Super Punch and OMG Posters! (The Overworld, My Tetris Heart Longs For Your Push and I'm alone there now, in our special place, waiting for you.).
The show will run through February 4.