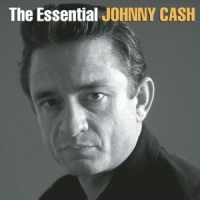 The newly independent Harmonix has revealed that an eight-pack of Johnny Cash songs will lead off the Rock Band Store's 2011 offerings.
The Man in Black has been a fixture over at that other music franchise for the last few years, but PS3, Wii and Xbox 360 Rock Band 3 owners will be able to download the following Cash classics on January 4 as part of the Johnny Cash Track Pack 01:
"Cry, Cry, Cry"
"Don't Take Your Guns to Town"
"Five Feet High and Rising"
"Folsom Prison Blues"
"I Got Stripes"
"I Walk the Line" (Pro Guitar/Bass Available)
"Tennessee Flat Top Box" (Pro Guitar/Bass Available)
"The Ballad of Ira Hayes"
As usual, individual songs can be downloaded for $1.99/200 Wii Points/160 Microsoft Points each while the Pro Guitar/Bass upgrades can be purchased for a dollar more. All of the songs will also be available as a track pack, which will be priced at $13.49/1350 Wii Points/1,080 Microsoft Points.
If those prices sound a bit steep to you, Harmonix also plans to launch the Rock Band Free Pack 01 on the PS3 and Xbox 360 this week as well. As the name implies, the developer will dish up nine songs for free, all of which previously appeared as hidden tracks on Rock Band or Rock Band 2:
Abnormality – "Visions"
Anarchy Club – "Get Clean"
Bang Camaro – "Night Lies"
Breaking Wheel – "Shoulder to the Plow"
Libyans – "Welcome to the Neighborhood"
The Main Drag – "A Jagged Gorgeous Winter"
Speck – "Conventional Lover"
The Sterns – "Supreme Girl"
That Handsome Devil – "Rob the Prez-O-Dent"