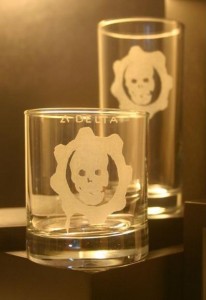 Before Gears of War became the sensation it is today, our favorite third party accessory manufacturer Mad Catz teamed up with Epic Games to release a series of faceplates, controller skins, and other goodies to celebrate its launch. This partnership continued on with Gears of War 2 and today Mad Catz announced a similar deal for the third game in the franchise, Gears of War 3. Due out this fall, the game will launch with a line of specially branded controllers (not just skins), headphones and other peripherals to celebrate the game. Darren Richardson of Mad Catz said: "Our Gears of War agreement is consistent with our strategies to align Mad Catz with the industry's most popular and anticipated game titles and to develop and globally distribute high-value products that enhance the gaming experience. Gears of War is a marquee relationship for Mad Catz and helps us further grow and diversify our industry-leading portfolio of branded videogame accessories."
Mad Catz has previously partnered with Activision to deliver a set of Call of Duty accessories which have been pretty decent. Here's hoping they rock it with Gears 3 as well.
Note: Mad Catz has not, unfortunately, announced shooters or tumblers as pictured above as accessories, but it would be awesome if they did.