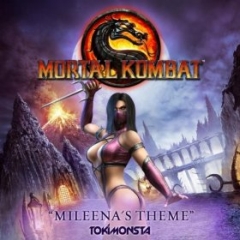 Not only will Mortal Kombat be returning to consoles this April, but a new soundtrack album is in the works as well. Publisher WB Games and developer NetherRealm Studios have teamed up with WaterTower Music and Teenage Riot Records to create Mortal Kombat: Songs Inspired by the Warriors.
The first single from the compilation will be Tokimonsta's "Mileena's Theme," an electronic track that evokes strong memories of the soundtrack from the 1995 Mortal Kombat film. Although, this shouldn't be too surprising as the album was produced by Jesse "JFK" Keeler of electronic duo MSTRKRFT.
The full album will be available alongside Mortal Kombat in April, but "Mileena's Theme" can be downloaded now from Amazon and iTunes for 99 cents. Or you can hit the jump for a short "Mileena Vignette" trailer featuring everyone's favorite demonic clone and some snippets from the single.