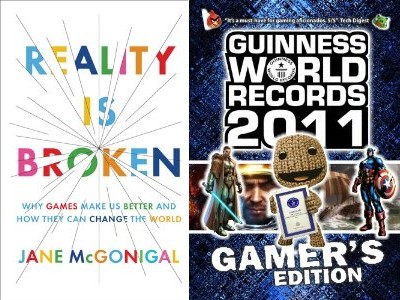 Two video game-related books are now on the shelves of your local bookstore.
The book on the right, Guinness World Records 2011: Gamer's Edition, needs no introduction. It's the latest compendium of game records by the Guinness people and it was released today after a record-setting LittleBigPlanet 2 launch party in New York City. Some of this year's new records include Largest Collection of Super Mario Memorabilia (5,400 items), Top Paid-For Apple App Store Game (Angry Birds) and Most Popular Facebook Game (FarmVille). I think it's kind of funny that Apple revealed the official "top paid-for app" yesterday and Angry Birds wasn't it. CityVille also surpassed FarmVille as the most popular Facebook game earlier this month.
The 2011 Gamer's Edition also lists the Top 50 Video Game Characters of All-Time. After thousands of votes were cast, Mario came out on top with Link at number two and the Master Chief rounding out the top three.
The book on the left is Reality is Broken, which was written by Jane McGonigal, one of the creators behind the alternate reality game I Love Bees. McGonigal argues that the popularity of games has fundamentally changed the world and Reality is Broken is her blueprint on how to fix it (using game concepts in everyday life, of course).
We'll have a review of Reality is Broken very soon.