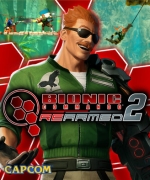 Sony has performed their weekly update of the PlayStation Store with lots of new games and lots of discounts for PlayStation Plus subscribers.
Those new games include a downloadable edition of Assassin's Creed II: Deluxe Edition (which features all of the DLC) and Capcom's platforming sequel Bionic Commando: Rearmed 2. Also available this week is Atari's puzzler The UnderGarden and Tales From Space: About A Blob, another puzzler (and just for Plus users for now).
Mega Man 2 is this week's lone addition to the PSone Classic Imports section.
The PSP Store will receive a trio of games this week, one-on-one fighter Samurai Showdown and minis versions of Wackylands Boss and the excellent Pac-Man Championship Edition.
More information on all of these games can be found after the break with a full rundown of this week's downloadables at the PlayStation.Blog.
PlayStation Store for PS3
Assassin's Creed II Deluxe Edition ($29.99)
Assassin's Creed II is an epic story of brotherhood, vengeance and conspiracy set in the pristine, yet brutal backdrop of 15th century Renaissance Italy. Our new hero, Ezio Auditore da Firenze, befriends Leonardo da Vinci, takes on Italy's most powerful families and ventures throughout the canals of Venice where he learns to become a Master Assassin. Included are the full game and all DLC already integrated to extend your gameplay experience. (ESRB Rated M)
The UnderGarden ($9.99)
Challenge your mind in the wondrous depths of The UnderGarden. Plunge into a unique new world exploring large underground caverns, encountering mysterious creatures to befriend or avoid. Solve mind-bending brainteasers and puzzles as soothing tunes accompany you on your journey through 20 distinct levels of state of the art 3D graphics. The UnderGarden offers a mental challenge and aesthetic experience like nothing else. (ESRB Rated E)
Bionic Commando: Rearmed 2 ($14.99)
Capcom presents the next evolution in retro side-scrolling action with Bionic Commando Rearmed 2. Equipped with his famous bionic arm, Nathan "Rad" Spencer swings back into action in order to stop General Sabio from launching a deadly missile strike. Swing, leap, and shoot your way through lush new environments as you encounter countless enemies and huge bosses throughout the island of Papagaya. (ESRB Rated T)
Tales From Space: About A Blob ($14.99) (PlayStation Plus Only)
Tales from Space: About a Blob is a side-scrolling puzzle-platformer about a race of insatiable alien Blobs. Looking for their next meal, the blobs end up on a distant Earth-like planet that didn't invite them for dinner. Absorb delicious humans, farm animals and eventually THE WORLD!!! (ESRB Rated E)
Mega Man 2 ($5.99)
Mega Man returns for his next 8-bit adventure! The indomitable Dr. Wily has built another army of robotic henchman, including eight new Robot Masters that only Mega Man can defeat. Featuring improved graphics, a rousing soundtrack, and polished gameplay, Mega Man 2 is a must-have experience for any gamer!
PlayStation Store for PSP
Samurai Showdown ($6.99)
SAMURAI SHODOWN, the original weapon-based fighting game, is back for battle on NEOGEO STATION! Samurai, ninja, and other exotic fighters star in this classic that focuses on powerful strikes. Features a rage gauge that turns incurred damage into attack power, and intense, button-mashing weapon clashes! (ESRB Rated T)