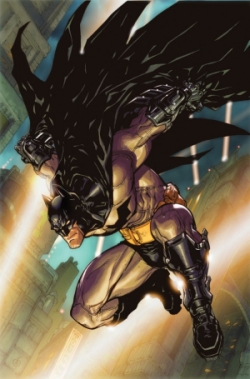 Batman won't just be stalking the streets on the PC, PS3 and Xbox 360 this Fall as DC Comics has announced they'll be producing a six-issue miniseries that will bridge the gap between Batman: Arkham Asylum and Batman: Arkham City.
The miniseries will begin this May and it'll be written by Paul Dini (the creative mind behind both games) and drawn by Arkham Asylum/Arkham City concept artist Carlos D'anda. You can spy a sneak peak of the cover to your left (a variant using in-game graphics will also be available).
Dini and D'anda will explore the yearlong gap between the games over the six issue miniseries (which will also be available as digital downloads) as well as in four "digital-first" interludes. These interludes will run eight pages and be offered exclusively as a digital download for $0.99 each. They will make their print debut as part of the Batman: Arkham City collector's edition.
Doesn't quite top a life-size batarang, but I'm sure WB Games will include plenty of other goodies in the Arkham City collector's edition.