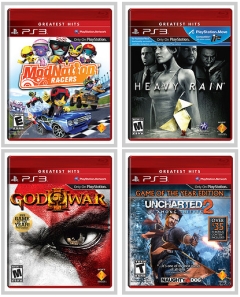 Sony has added a quintet of new titles to the PlayStation's Greatest Hits line and it's hard to argue about the greatness of any of them.
The latest Greatest Hits include God of War III, Heavy Rain, ModNation Racers, Uncharted 2: Among Thieves – Game of the Year Edition (which includes a voucher for all of the game's downloadable contenst) and THQ's UFC Undisputed 2010. All of the games will now retail for the insanely great price of $29.99. As you can see on the left, the games look pretty snazzy in red with their new Greatest Hits cases.
Sony has promised that more games will be added to the Greatest Hits lineup as 2011 progresses.