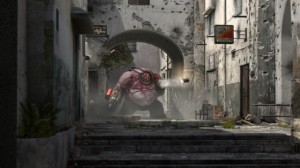 Croteam has been doing serious work on the third game in the Serious Sam series since 2009. Today, they unveiled the first screenshots of their labor and announced that Serious Sam 3: BFE would be released on consoles and the PC this Summer. There's no word yet on what the BFE stands for.
Serious Sam 3 will actually be a prequel to the first game in the series and it'll tell the tale of how Sam Stone first became "Serious" battling Mental's forces back in 22nd century Egypt. While the game is powered by a brand new engine and sports a more realistic look, Serious Sam 3 is still all about the boom… or in the words of Croteam: "No cover systems, no camping – it's just you and them. All of them."
But that's not to say there won't be a few new tricks up Sam's sleeveless shirt. This time around Sam will be able to perform melee attacks and take on the campaign mode with 15 of his closest friends. A variety of Versus Modes and new enemies round out Serious Sam 3's big package.
When asked about the sales prospects of Serious Sam 3, the game's publisher, Devolver Digital was very excited: "Holy crap, I am going to make a boatload of cash of this game," said Fork Parker, chief financial officer at Devolver Digital, the Serious Sam 3: BFE publisher. "I mean that's what this is all about, right? If this thing comes out in the summer my wife is totally getting the tit job she's been asking for."
Serious Sam was originally created to fill the void left by the continuing delays of Duke Nukem Forever, so it'll be very interesting to see the two titans of the "gratuitous gunplay" genre go head-to-head in the marketplace this year.
Check out the first screenshots of Serious Sam 3: BFE after the break.