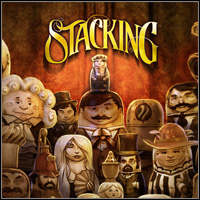 Microsoft may be planning a five-week blowout of big games beginning next week with the Xbox Live House Party, but Sony has decided to dump a massive amount of cool games onto the PlayStion Store in a single day.
Leading off this week's PlayStation Store update is Double Fine's Stacking, perhaps the finest (AKA the only) game about Russian stacking dolls. Best of all, it's free to PlayStation Plus subscribers. What a deal!
Also available this week is Explodemon, a platformer with an exploding hero that is totally not at all similar to last year's XBLA game 'Splosion Man.
Finally, Sony has made Tales From Space: About a Blob available to all PSN users and PopCap has fertilized the service with their hit game Plants vs Zombies.
More details on all of these games can be found after the break with even more game add-on news available at the PlayStation.Blog.
Downloadable PS3 Games
Explodemon ($9.99)
The universe's most destructive 'hero' is about to become its only hope. Explodemon is adrenaline-pumping retro platforming brought kicking and screaming into the modern age! (ESRB Rated E)
Tales From Space: About a Blob ($14.99)
Tales from Space: About a Blob is a side-scrolling puzzle-platformer about a race of insatiable alien Blobs. Looking for their next meal, the blobs end up on a distant Earth-like planet that didn't invite them for dinner. Absorb delicious humans, farm animals and eventually THE WORLD!!! (ESRB Rated E)
Stacking ($14.99)
From Tim Schafer's Double Fine Productions, explore a vintage world inhabited by living Russian stacking dolls as you jump into more than 100 unique dolls and use their special abilities to solve a wide variety of puzzles & challenges. Play as Charlie Blackmore, the world's tiniest Russian stacking doll, and embark on an adventure to rescue Charlie's family from the nefarious industrialist known only as the "Baron." (ESRB Rated E10+)
Plants vs. Zombies ($14.99)
Get ready to soil your plants with multiplayer action! A mob of fun-loving zombies is about to invade your home. Defend it with an arsenal of home-guardin' plants to mulchify zombies before they reach your front door. Get twice the zombie-zapping action with 2-player Versus and Co-op modes. We're loaded with seven game modes, new rabble-rousing features, and unlimited replayable action… so the fun never dies! (ESRB Rated E10+)