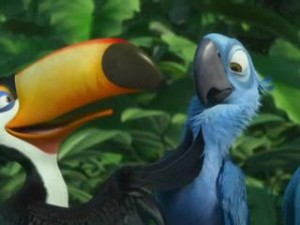 THQ and Twentieth Century Fox today announced the standalone game adaptation, Rio, for the latest CG extravaganza from Blue Sky Studios. This game will be separate from the movie's cross-over with Angry Birds, which Nintendo President Reggie Fils-Aime called "a great piece of experience," in an apparent loss of understanding of the English language.
The movie depicts a group of birds and their adventures on the Rio de Janeiro. The game will be a multiplayer party game with 40 mini-games across five modes that players can easily hop in and out of. Rio will be released for every platform under the sun except the soon to be irrelevant PSP (re: Xbox 360, PS3, Wii, Nintendo DS). The DS version will be different from its big brother home console version, in which the character Blu discovers hip hop and Latin beats in a rhythm-style game.
Martin Good, THQ's Executive Vice President of Kids, Family and Casual Games, stated "Rio's humor, compelling characters, thrilling story, colorful characters and wonderful music inspired us to create a unique and imaginative game experience."
The game will be available April 12, three days before the film hits theaters.