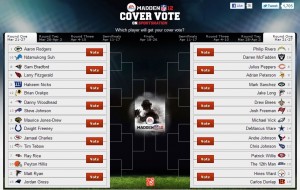 It's 4 PM and, as promised, EA Sports and ESPN have unveiled the bracket for the Madden NFL 12 Cover Vote. You can vote for the winners of the 16 initial matchups now at ESPN.com or fill out your own bracket using the Madden NFL Bracket Facebook bracket.
The five-week long tournament will choose the Madden NFL 12 curse victim cover athlete on April 27 with a new round commencing every week. Each team is represented in the bracket and the #1 seeds went to Aaron Rodgers (Green Bay Packers) and Philip Rivers (San Diego Chargers). However, some of the choices are just baffling:
The Denver Broncos selection is Tim Tebow, who spent most of the season as the third-string quarterback. Tom Brady and Wes Welker of the New England Patriots were passed over for running back Danny Woodhead. No player from the Seattle Seahawks was deemed worthy with EA choosing The 12th Man instead.
You can click on the bracket to get a larger picture of the matchups and remember to vote early and vote daily for your favorites.