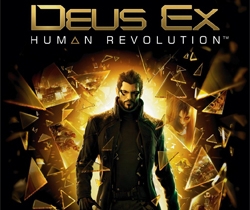 Eidos Montreal set up shop at this weekend's PAX East show to talk about their upcoming game Deus Ex: Human Revolution. The prequel to the Warren Spector-created series will be released for the PC, PS3 and Xbox 360 on August 23.
We had an opportunity to sit down with Game Director Jean-Francois Dugas at the show. During the interview we talked about the challenges of reviving an older franchise, their unique relationship with Square Enix, Warren Spector's feedback, and what influenced the team during the development of the game:
Dugas: [W]e look at everything around. Of course, we looked at Blade Runner, we went back even to RoboCop. We even watched Johnny Mnemonic again.

Warp Zoned: Ohhh no!

Dugas: Haha, yeah, but there are good ideas in that, even though it's not a great movie, so you really need to have an open mind. And even the not so good stuff might be interesting anyway. We also went into Japanese anime like Ghost in the Shell, but also things like Solty Rei. I don't know if you heard of that, it's more obscure.

We also went into books about transhumanism, real stuff that's non-fiction. Watched a lot of documentaries about a lot of things. So our sources of inspiration weren't necessarily sci-fi driven, they were about everything that relates to our game. Like anticipation of the future, transhumanism, how to create good cyber punk setting, it was all over the place.

Even Professor Layton inspires me! (laughing) I love that game!
You can read our full interview with Jean-Francois Dugas right here.