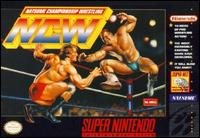 Back before every wrestling game had to have a WWE (or WCW or ECW or TNA) license to be successful, Natsume released Natsume Championship Wrestling during the Super NES-era and wrestling fans everywhere seemed to enjoy it. With WWE All-Stars scheduled for release next week, this new addition to the Virtual Console might be a good warm-up. It's joined this week by the WiiWare release Arcade Essentials, "a collection of five classic arcade games."
The DSiWare Shop will also receive two new titles this week: Shapo, a balancing puzzle game; and G.G. Series: D-Tank, a shooting game where players control a tank.
More information on all four games can be found after the break.
Virtual Console
Natsume Championship Wrestling
Original Platform: Super NES
Publisher: Natsume
Players: 1-4
ESRB Rating: E10+ (Everyone 10 and Older) – Mild Violence
Price: 800 Wii Points
Step into the ring. Choose from 12 outrageous wrestlers and bring the pain. Wield the massive power of Asteroid, the lightning-fast strikes of Viper, the underhanded attacks of Phantom and many more madmen of the ring. With its robust grappling system and more than 50 moves to master, Natsume Championship Wrestling delivers the deepest and most realistic wrestling action of the 16-bit era. Test your might against the crafty AI, or up to four players can compete in exhibition, tag team and round-robin matches.
WiiWare
Arcade Essentials
Publisher: Nordcurrent
Players: 1
ESRB Rating: E (Everyone)
Price: 500 Wii Points
Arcade Essentials is a collection of five classic arcade games. All are presented in a modern reincarnation with enhanced game play, stylish graphics and sound effects. Jump right in, enjoy the nonstop game play and immerse yourself in these popular games as you did many years ago. Discover lots of levels to unlock, plus high score tables and other cool stuff to keep you entertained.
Nintendo DSiWare
G.G Series: D-Tank
Publisher: Genterprise Inc.
Players: 1
ESRB Rating: E (Everyone) – Mild Cartoon Violence
Price: 200 Nintendo DSi Points
You control a tank that can respawn any number of times. The focus of this shooting game is to put your life on the line to successfully carry out a variety of defensive and offensive missions. In defensive missions, you must take out the enemy tanks targeting your base before it is destroyed. In offensive missions, you must capture the enemy's stronghold within the time limit. The key to success in these missions is the strategic use of items such as bombs and special ammo.
Shapo
Publisher: Tik Games
Players: 1
ESRB Rating: E (Everyone)
Price: 500 Nintendo DSi Points
Shapo is a challenge that will keep you on the edge. Balance the scales as you place shapes made of different materials. Play more than 150 levels in Classic or Puzzle mode to unlock the greatest wonders of the world. Stunning art brings 15 wonders of the world to life. Enjoy exciting power-ups such as the material bomb and line bomb. Each ball and shape has a different weight, so be careful when placing your pieces. In Classic mode, create lines to remove balls. Match sequential lines and watch the combo multiplier grow. In Puzzle mode, complete increasingly complicated levels by filling the grid with the given balls.