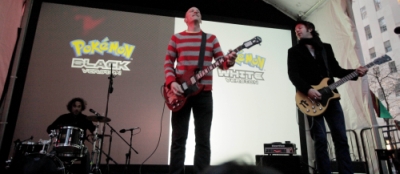 They sat in a boggy marsh with lump, they crushed a peach in their fist and they performed a duet with Sir Mix-A-Lot. But do you believe that The Presidents of the United States of America can also catch 'em all?
The 90s alt-rock gods (in my mind at least) performed their Pokemon tribute song "Can't Stop (Catchin' 'Em All)" at the Pokemon Black and White launch party this weekend in New York City. If you couldn't make it down to the Nintendo World Store, don't worry, we've got the song right here:
This is definitely one group of Presidents that I'd never want to impeach.