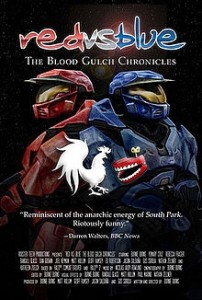 Some of the amazing guys (and gal!) from Rooster Teeth had their usual panel at PAX East this past weekend, and it was a doozy. Not only did they air an episode of Immersion that will probably never be available, but they also formally announced season nine of Red vs. Blue, which will be a prequel focusing on Project Freelancer. Although they did say there would be another season – the website areyoumakingmoreredvsblue.com simply says "yes" in large letters – there was no indication of when or what it would be.
I, for one, am massively pleased. I've been a huge fan of Rooster Teeth since first seeing this show back in 2003, and I've seen all of their panels since my first PAX in 2008. For anyone living under a rock for the past eight years, Red vs. Blue is the awesome machinima show based on the Halo series, and Immersion is their new live-action show that brings absurd video game scenarios to life.
Rooster Teeth is an incredible group of people who are talented, dedicated, and absolutely in love with their fans. The panel was comprised of Gustavo Sorola, Jack Pattillo, Burnie Burns, Monty Oum, and Geoff and Griffon Ramsey. As always, the panel was one of my favorite parts of PAX. Look for the trailer going up on the site on their anniversary, April 1st (no, that's not a joke). The show will be coming this summer.