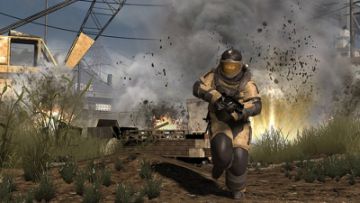 It's the event you may have bought a copy of Killzone 3 just to get in on: the SOCOM 4: U.S. Navy Seals beta has been officially detailed. A new phase will begin every week starting March 15th, when a small private group of individuals contacted by Zipper or Sony will be invited. Next week, PlayStation Plus subscribers will get their chance at the tactical gameplay, followed by owners of beta codes given out with new copies of Killzone 3. On April 5, the beta will be open to all PlayStation Network users. All four phases will be cumulative, so if you're a PlayStation Plus subscriber, you can play in the other phases up until the servers are taken down on April 13.
Players will be able to check out two maps (Port Authority and Assault & Battery) while playing in all four game modes: Suppression, Last Defense, Uplink, and the newly announced Bomb Squad. In Bomb Squad, the Spec Ops team escorts a heavily armored, yet indispensable technician from bomb site to bomb site as he attempts to defuse explosives before the Insurgent team can stop him.
This does seem a little cheap – Killzone 3 purchasers getting in on the second to last phase when that was such a big part of the advertising for the game. Not to mention if you're a PlayStation Plus subscriber who could've gotten into it anyway without a purchase. Chris Roper from Zipper explains the phasing is so they can gradually introduce a greater amount of players in each phase as a lot of people bought Killzone 3. I'm inclined to believe him, and hope the beta works out for the team when SOCOM 4 is released on April 19 for the PlayStation 3.