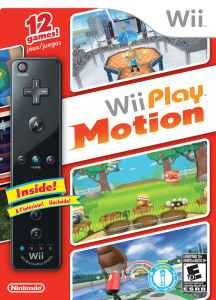 Nintendo has sold more copies of Wii Play than of any other game in its thirty year involvement in the video game industry. So are you really surprised that the company has announced a sequel, now with Wii MotionPlus support?
Wii Play: Motion will be released on June 13 and come packed with a black Wii Remote Plus. Twelve new games will round out this minigame collection all for the attractive price of $49.99:
Wii owners will be twisting, turning and enjoying themselves like never before, whether they're newcomers to the console or have already discovered the fun of the popular Wii Play game. From catching a gust of wind by tilting an umbrella to fending off garden pests by swinging a mallet, each of the 12 included games will have players smiling wide as they use their Wii Remote Plus controller (or Wii Remote with Wii MotionPlus accessory) in a variety of interesting, sometimes unexpected ways. Wii Play: Motion comes packaged with a Wii Remote Plus controller – which combines the original Wii Remote controller with the precision of Wii MotionPlus – to deliver great value, precise motion control and immersive social fun that anyone in the household can pick up and instantly enjoy.