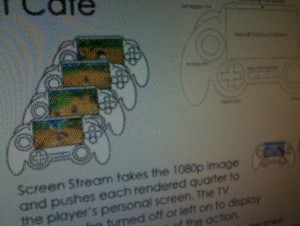 In the flurry of Nintendo Wii 2 rumors and news, yet another tidibit of information has trickled down for Mario's next console.
The pic on your left shows a slide from a Nintendo presentation, possibly for E3, possibly for developers they're showing off the console to. It displays an interesting prototype design, one looking a lot like those controllers we reported the Wii 2 may have.
Even more interesting is the fact that Nintendo may be pursuing a new take on splitscreen gaming, taking the partitions of a screen during such multipalyer sessions and putting it on a controller. It's also reminiscent of the Gamecube's Gameboy Advance interoperability, putting certain elements on the screen for games like Final Fantasy Crystal Chronicles and The Legend of Zelda: Four Swords Adventures. You have to admit, if it's going to be a small screen anyway, it's kind of like taking the tried-and-true couch multiplayer and turning it into handheld multiplayer. Those controllers better have speakers!
The Nintendo Wii 2 will be officially unveiled at this year's E3. We'll keep you posted on all the details.