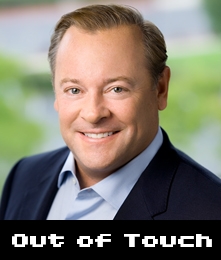 Jack Tretton is the President and CEO of Sony Computer Entertainment of America. If his recent interview with Fortune is anything to go by, he's also horribly out of touch with how the PlayStation family's fortunes are faring in the marketplace.
Tretton started off slow, knocking the Wii and Xbox 360 for their optional storage solutions and motion gaming peripherals (I guess the PlayStation Move is beyond that kind of criticism):
"They're starting to run out of steam now in terms of continuing to be relevant in 2011 and beyond," [Tretton] says. "I mean, you've gotta be kidding me. Why would I buy a gaming system without a hard drive in it? How does this thing scale? Motion gaming is cute, but if I can only wave my arms six inches, how does this really feel like I'm doing true accurate motion gaming?"
Tretton unleashed his true ire on the DS, playing the dreaded "kiddie" card and resorting to namecalling when referring to adult DS owners…
"Our view of the 'Game Boy experience' is that it's a great babysitting tool, something young kids do on airplanes, but no self-respecting twenty-something is going to be sitting on an airplane with one of those," he says. "He's too old for that."
Wow. No one can say that the PS3 and PSP aren't amazing products with a ton of desirable games and features. But when the competition's marketshare is more than double your own (Nintendo has sold nearly 150 DS systems to the PSP's 70 million), it's almost delusional to say the other guy is doing something wrong. And it's extra insane to insult DS owners like that. Especially because many of them likely also own a PSP or PS3.
I'm starting to think that Ken Kutaragi left some crazy pills lying around the SCE offices.