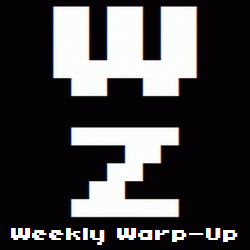 No, that's not a typo. Welcome to the Weekly Warp-Up, your weekly wrap-up of the biggest and the best articles posted at Warp Zoned this week…
Get Warp Zoned!
It's been a tough week for Sony.
First, Angry hackers declared war on the company over the OtherOS thing and some even made remarks referring to CEO Jack Tretton's kids. The hackers managed to take down the PlayStation Network and several Sony-connected websites. Then, the online activist group Anonymous took responsibility for the PSN outages, but insulted the gamers they were trying to "help" at the same time. Finally, after Anonymous was informed that their campaign to restores services that PS3 owners had paid for was causing other services that PS3 owners paid for to crash, they suspended their campaign against Sony.
And in a totally unrelated matter, Sony's CEO has apparently lost his mind, delusionally slamming Nintendo and Microsoft in an interview with Fortune.
But Sony did receive one piece of good news this week. Their Killzone franchise was the first selection for the Warp Zoned Wish List, a new ongoing column where we reveal what we want to see in announced and unannounced future projects. The inaugural article answers the question What We Want From Killzone 4.
Hit the jump for the rest of the Weekly Warp-Up.
The Week in Reviews…
The Week in New Games…
Amazing Paperboy Delivers…
And Finally…
Metal Gear Solid merchandising has gone too far! Konami has revealed that the action series has inspired its own clothing line, which will be in stores tomorrow.