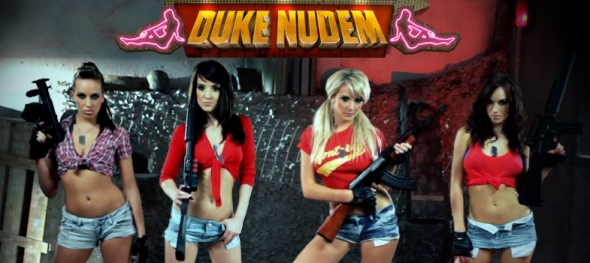 Stay classy Duke!
The official European site for Duke Nukem Forever has added a new Flash game to keep your trigger finger busy while it waits for the real thing. Loading up "Duke Nudem" at boob-tube.eu will pit gamers against four of Duke's babes in a round of strip target practice. If Duke wins, the girls get naked. But if the girls win, Duke introduces them to his gun. In other words… Duke always wins.
Putting up a better score than the babes is not as easy you'd think. Vicky Vixen (and her MP5), Blastin' Jo (who's packing a heavy-duty shotgun), Deadeye Stacy (sporting an AK-47) and Rifle Rosie (with her M-16) are all crack shots and the Duke will go down in defeat a lot. So you'll have to practice, practice, practice until you can outlast the babes. Good luck, Duke.
Duke Nukem Forever will finally be released for the PC, PS3 and Xbox 360 on June 14.