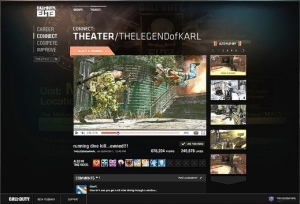 Activision has been talking up their "Beachhead" initiative, a unified platform for Call of Duty stats and bonue features similar to Halo Waypoint, for a few months now. Today, the company is ready to unveil it under its official name: Call of Duty Elite.
As expected, Call of Duty Elite will carry a monthly fee, which Activision executives describe as "less than fees for comparable online-entertainment services such as Netflix." For comparison's sake, the Netflix one-disc package is priced at $7.99 a month. But don't worry, gamers will have plenty of time to decide whether or not Elite is worth the price as it's not scheduled to launch until this November, alongside Call of Duty: Modern Warfare 3.
So what will gamers be getting for their subscription fee? Tracking tools will coordinate a wide variety of statistics for multiplayer matches, which can be used to find out which weapons work best on which map. A Theater mode will allow gamers to record and share clips of their Call of Duty adventures. And a Facebook-like Groups feature will let users meet up to plan their multiplayer matches (this feature will also be included in a free version of Elite). Best of all, Elite subscribers will receive all downloadable map packs for free as well, which will likely be the main draw for many early Elite subscribers.
Will you pay for Call of Duty Elite? Or is this just another way for Activision to squeeze another fistful of money out of their cash cow franchise? Let us know in the comments.
[Source: Wall Street Journal]