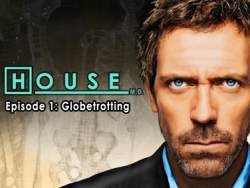 Hugh Laurie's "House" may be done for the season, but the good doctor will continue to practice on the DSi Shop this Summer in House M.D.: Globetrotting.
The Trauma Center-like title is joined in today's DSi Shop update by B Team Episode 1: Dust & Steel, a "hilarious" squad-based shooter, and Valet Parking 1989, a parking puzzle game with a Big Hair Decade twist.
The Wii Shop will receive two new games this week, Shin'en Multimedia's futuristic racer FAST: Racing League on the WiiWare side and the Super NES classic Super Adventure Island on the Virtual Console side.
More information on all of these games can be found after the break.
WiiWare
FAST: Racing League
Publisher: Shin'en Multimedia
Players: 1-4
ESRB Rating: E (Everyone)
Price: 1,000 Wii Points
In the year 2112, the masses are fascinated by extreme high-speed races. The latest antigravity racing technology introduced phase-shifting. Perfectly phase-matching tracks and racing machines is the key to survival. Prepare yourself for a whole new racing experience at breakneck speeds. Push your skills to the limit to win races and beat records. Challenge your friends to an all-out split-screen competition. Compete against ruthless opponents and race to the top of all leagues. Warm up your engines – the future is now.
Virtual Console
Super Adventure Island
Original Platform: Super NES
Publisher: Hudson Entertainment
Players: 1
ESRB Rating: E (Everyone) – Mild Cartoon Violence
Price: 800 Wii Points
Adventure Island is a mysterious and beautiful land that has many hidden dangers. The hero of the island, Master Higgins, protects its inhabitants from many deadly creatures. He has restored peace to the uncharted island on many occasions. But something terrible has happened. While Master Higgins and Jeanie Jungle were stargazing, a dangerous entity known only as Dark Cloak turned Jeanie to stone. Master Higgins must venture toward Dark Cloak's castle at the foot of Ice Mountain to rescue her.
Nintendo DSiWare
House M.D.: Globetrotting
Publisher: Legacy Interactive
Players: 1
ESRB Rating: T (Teen) – Drug Reference, Sexual Themes
Price: 800 Nintendo DSi Points
Whenever a patient is dying and no one can find any answers, the elite Diagnostic Medicine department at Princeton-Plainsboro Hospital must follow all leads to uncover the truth. Patients and family members lie to protect their own peculiar secrets, and the most unlikely clues sometimes can lead to answers. Dr. Gregory House and his team race to unravel a new medical mystery. An aging TV host seems to care less about his own health than his fame and reputation. Track down the correct diagnosis by interviewing and examining the patient, running lab tests and even performing surgery. Every piece of evidence reveals part of the solution, so careful observation and analysis are key. The clock is ticking – be prepared for multiple twists and turns as you solve the case.
B Team Episode 1: Dust & Steel
Publisher: Subdued Software
Players: 1
ESRB Rating: E10+ (Everyone 10 and Older) – Use of Tobacco, Violence
Price: 800 Nintendo DSi Points
B Team Episode 1: Dust & Steel is a humorous, action-packed squad-based shooter in which players control a small private army whose soldiers were hired from all over the world. Lead your platoon through an onslaught of commandos, voodoo warriors, dangerous guerillas… and that's just the beginning. When the action gets too intense to manage on your own, hook up with a friend in multiplayer mode to battle your way through the bullets. While intense action is the game's chief focus, its multiple weapons, upgradeable equipment and destructible environment further enrich the experience.
Valet Parking 1989
Publisher: Zordix AB
Players: 1
ESRB Rating: E10+ (Everyone 10 and Older) – Mild Language, Mild Violence, Suggestive Themes
Price: 500 Nintendo DSi Points
Valet Parking 1989 combines fun driving with the humor and style of the late 1980s. Park and deliver cars as fast as possible in this time-management puzzle game. The setting is California, where glamorous celebrities let you park their radical sports cars and luxurious limousines. Play the movie-like story mode to unlock levels for endless play. Earn money to buy a cool car and drive it to the beach in style. Don't let the VIP guests wait any longer. Put on your vest and push the pedal to the metal.