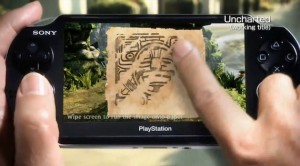 Nathan Drake (and hopefully Victor "god damn" Sullivan) will be coming to Sony's new handheld system, the NGP. In addition to revealing that the NGP version will take place between Uncharted: Drake's Fortune and Uncharted 2: Among Thieves, Naughty Dog co-president Christophe Balestra also said that there will probably be some kind of tie-in with the upcoming Uncharted 3: Drake's Deception.
Balestra also said that "Uncharted NGP features a different vibe and rhythm than the PlayStation 3 games so people can play it in short bursts," according to Eurogamer. They're going to give us "more exploration and fewer gunfights, letting people breathe while playing."
Sony Bend, responsible for the awesome Resistance: Retribution for the PSP, will be developing Uncharted NGP. Not only that, they'll be working with actors, which means we'll hopefully be getting the same quality we've seen in the console versions.