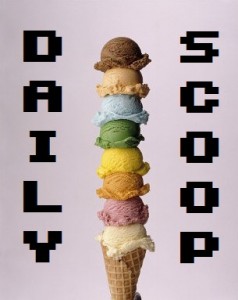 Tomorrow's the big day, everyone. It's the day so many of you have been waiting for. The day that Duke Nuken Forever launches. As Editor-in-Chief John Scalzo mentioned, the wait has been long: 14 years, 1 month and 17 days. Hopefully the wait was worth it.
Anyway, we've got some deals for you. Today's Deal of the Day in video games at Amazon is EA's Tiger Woods PGA TOUR 12: The Masters for the Wii. It's $29.96, and allows you to "Play like a true pro with a caddie alongside, assisting and supporting your every swing." Wow. Said caddie will also "evaluate all pre-shot factors, such as wind, lie, and yardage, to provide a recommended shot." There's definitely a joke in there about lying to his wife, but I think everyone's over Tiger Woods jokes by now, right?
Also up today is the last week of Amazon's Dads & Grads promotion, which is "Next Generation Console & PC Deals." Portal 2 is $29.99 for PC (and $39.96 for PS3 and $39.99 for Xbox 360), Halo Reach is $39.90, and James Bond 007: Blood Stone is $14.99 (Xbox 360 only). Scoop 'em up!
In the t-shirt world, today's Ript shirt is called "Birds of War" and is an Angry Birds/Gears of War mashup: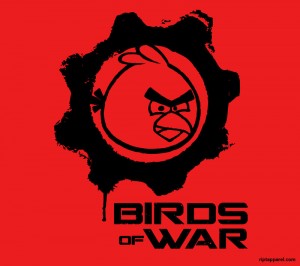 The Ukrainian artist says it is a "shirt for those who like 'Gears of War' and 'Angry birds' and can not give preference to any." Yeah, what he said.