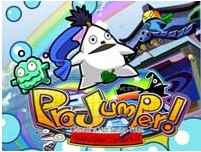 Nintendo's weekly update of their download services includes a bunch of quirky titles today.
On the DSi Shop there's Pro Jumper! Guilty Gear Tangent!?, which is platformer spun off from the Guilty Gear series of fighting, and Stratego: Next Edition, a portable version of perhaps the greatest board game ever. Also available on the DSi Shop is Delbo, a Bust-A-Move-like puzzle game.
All of this week's DSiWare offerings can also be downloaded from the 3DS eShop, which receives one exclusive of its own: the Game Boy classic Tennis.
On the WiiWare side of things there's The Mystery of Whiterock Castle, a hidden objects game.
More information on all of these titles can be found after the break.
Nintendo DSiWare
Pro Jumper! Guilty Gear Tangent!? – Chimaki from Guilty Gear 2 stars in this quirky platformer. Make use of his run, jump and towel attacks to collect apples and successfully bypass the legions bent on his destruction.
Stratego: Next Edition – Demonstrate your strategic skills on the battlefield against opponents who will do everything in their power to outsmart you. Rise to the challenge and become the greatest general of all time.
WiiWare
The Mystery of Whiterock Castle – Experience a thrilling search for a missing princess. Find all the hidden objects in 10 meticulously detailed settings as you get to know the various inhabitants and rooms of the castle.