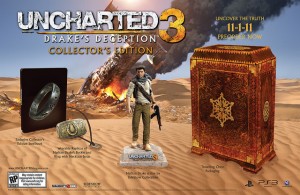 Naughty Dog has announced that there will be an Uncharted 3:Drake's Deception Collector's Edition, and, if you'll pardon me quoting Sully, it's pretty god damn awesome. There's an exclusive steelbook case for the game, a Nathan Drake statue from Sideshow Collectibles, a full size replica of Drake's belt buckle from Uncharted 3, and – perhaps my favorite – a replica of Drake's necklace, with Sir Francis Drake's ring on it. All of this comes in a traveling chest replica, which in itself is pretty sick. This whole package is priced at $99.99 and will be sold at the typical retailers.
But wait… there's more! Each retailer will have exclusive pre-order bonuses – because who isn't tired of that? Pick your poison:
GameStop – Creepy Crawly Kickback ("allows you, when you've scored the requisite number of Medals, to turn into a swarm of deadly creatures to overwhelm your opponents as long as you've got time left on the Kickback countdown timer")
Best Buy – Regeneration Booster ("increases your healing rate in multiplayer, so that you can recover from your wounds and re-enter battle with full health sooner")
Wal-Mart – Callout Weapon Mod ("allows you to equip your old friend, the AK-47, with a laser sight that enables your entire team to see the location of the opponent you are currently targeting")
Last – but never least – is Amazon, which gives you a whopping three bonuses – two Weapon Mods and a Kickback. The Carpet Bomb Kickback "allows you to send out three grenades with a single throw to blanket your opponent – or take out a group of opponents – with multiple explosions," while the Clip Size Mods for the Para- 9 and G-MAL "increase the size of your bullet clip, allowing you to trade more shots with your opponent before you have to reload." Check out Arne Meyer's full report at the PlayStation Blog for more details.
This has me really excited, considering the precious rarity of the Uncharted 2: Among Thieves Collector's Edition. Naughty Dog is driving me crazy making me wait until November 1 for this game.