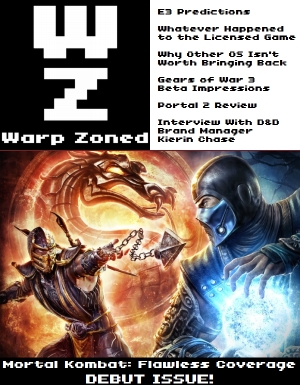 Attention Nook, Kindle and other eReader users! You can now read all of our previews, reviews and feature articles on the go. Download issue #1 of the Warp Zoned digital magazine (which we think is the first in the world) now!
Warp Zoned: The eMagazine
Issue #1 – April/May 2011
Download It in EPUB Format Here
In April and May we extensively (some might say obsessively) dug into the new Mortal Kombat reboot from NetherRealm Studios. We also supplied our predictions for the upcoming E3 Expo, checked in with how the licensed game is doing, interviewed the Brand Manager of Dungeons & Dragons, and examined the removal of the OtherOS option from the PS3's firmware (and its role in the PSN hacking attempts).
We also sliced through the Gears of War 3 beta and reviewed a variety of other new releases including Portal 2, L.A. Noire, The 3rd Birthday, Shift 2: Unleashed, Yakuza 4 and Pokemon Black/White. We hope you enjoy the first issue of Warp Zoned: The eMagazine and we'll see you at the end of June for issue #2.