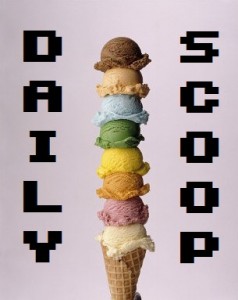 So as everyone knows, I don't have an Xbox 360. In fact, I've never owned any Xbox products, ever. I've been thinking about getting one, and I've officially started a "help Nicole get an Xbox 360" fund (which right now has about $150 in it). I've been debating on which one to get, and had almost settled on this puppy – until yesterday. Amazon announced the Xbox 360 Limited Edition Kinect Star Wars Bundle, and I totally lost it. A console that looks – and sounds – like R2D2?!?! And I only need $300 more! WOO!!
Anyway, onto the deals! Amazon's Deal of the Day in video games is Logitech PlayStation 3 Vantage USB Headset for $19.99. Logitech makes great products, so if you're looking for a good headset to use while playing Uncharted 2: Among Thieves, I recommend this one.
No t-shirts today, folks. It's too hot to wear a shirt, anyway! The heat index right now is 111 degrees. DO NOT GO OUTSIDE. Ever again. Or at least until it drops about 20 degrees.