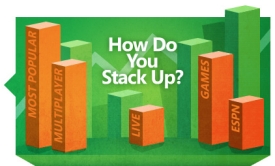 Microsoft has expanded with their Xbox Live Rewards program with the new MyStats page.
Just point your browser to Rewards.Xbox.com/my-stats to bring up a wide selection of stats on your last six months of Xbox 360 activities. You'll find out how your most played games compare to the community, how many Achievements you've unlocked, single-player versus mulitplayer play and how many entertainment services you've used.
Apparently I've put 43 hours in Mortal Kombat. Think that's impressive? The average Xbox Live Rewards member has played NetherRealm's latest for 123 hours.
So let out your inner stat geek today!