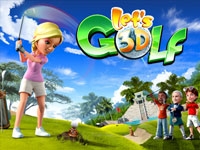 Nintendo has updated their online shops and made a variety of new games available to download on the 3DS, DS and Wii. This week's additions include:
Let's Golf 3D (3DS eShop)
Choose from eight customizable characters and play in exotic locations, including the Mayan jungle and a winter wonderland. The 3D visuals will let you view your ball's trajectory like never before.
Brawl Brothers (WiiWare)
Rick and Doug know all the moves, from martial arts to pro wrestling throws, and they don't hesitate to use them. You really don't want to mess with them!
Burn the Rope (WiiWare)
Try to burn as much of the rope as possible in each level. But there's a catch: The fire only burns upward, so you must rotate the levels to keep your flame alive.
Go Series: Portable Shrine Wars (DSiWare)
Oscar's World Tour (DSiWare)
My Australian Farm (DSiWare)
More information on all of these titles can be found at the weekly Nintendo Download newsletter.