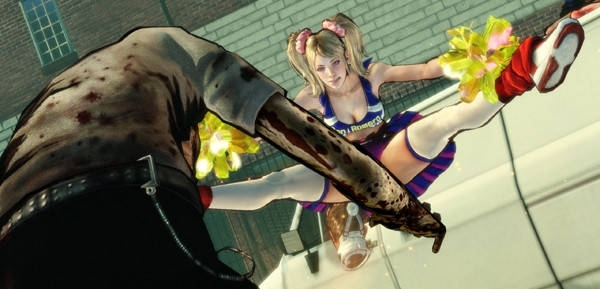 When Suda 51 revealed Lollipop Chainsaw in the pages of Famitsu two weeks ago, he strongly hinted the game already had a US publisher. Today, WB Games announced that they'll be the ones to bring Suda's latest oddity to America.
"Our exciting partnership with Kadokawa Games [Lollipop Chainsaw's Japanese publisher] allows us to try something new by bringing a very unique game like Lollipop Chainsaw to Western markets," said Martin Tremblay, President of Warner Bros. Interactive Entertainment. "Grasshopper Manufacture's games have shown tremendous success with gamers around the globe and we are delighted to expand our portfolio of Japanese-developed games."
In addition, Warner Bros. has hired Hollywood screenwriter/director James Gunn to adapt the game's script for Western audiences. Gunn has previously mixed horror and humor in his work with the Dawn of the Dead remake and the awesomely underrated Slither, so I have high hopes for Lollipop Chainsaw's script.
Lollipop Chainsaw, the tale of cheerleader Juliet Starling and her chainsaw-fueled crusade against the zombie meance, will be released for the PS3 and Xbox 360 in 2012.