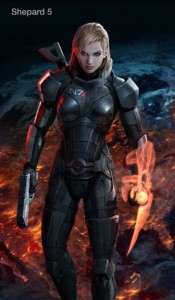 BioWare asked the people and the people have spoken. With all the votes tallied, the public vastly preferred "Shepard 5" (the one that looks like Samus Aran) as the model for the official female Shepard in Mass Effect 3. But an equally large group has also spoken and declared Shepard 5's blonde hair the mark of a bimbo, so BioWare has opened up a second round of voting to decide the official female Shepard's official hair color.
As of right now, redhead Shepard is winning with more than 13,000 Likes on BioWare's Facebook page. Brunette Shepard is in a distant second and a pair of blonde Shepards (one bleached and one dirty) are bringing up the rear.
I guess blondes don't have more fun.