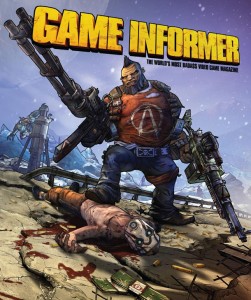 Well, that didn't take long. Just after all the leaks and rumors about Borderlands 2, 2K Games and Gearbox Software officially announced that the sequel is in development. It will be coming to the PC, PS3, and Xbox 360 sometime in fiscal year 2013 (after April 2012) and is going to have "all-new characters, skills, environments, enemies, weapons and equipment, which come together in an ambitiously crafted story." Taking place on Pandora once again, it will not only feature new characters, but new character classes.
All of this information and more can be found in the latest Game Informer. Good thing I just re-upped my subscription! The game will be playable at both Gamescom 2011 (from August 17 – August 21) and PAX Prime (Booth #3417 from August 26 – August 28).
This comes on the heels of something I said just last night to Ryan Littlefield as we were blasting our way through Earl's Scrapyard. Ryan said that he saw the GOTY edition in the clearance bin, and I replied, "Well obviously it's because they're making the second game." DING! We have a winner! Now excuse me while I go change my pants.