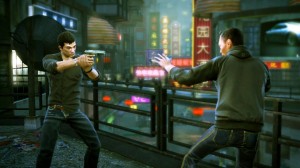 It seems True Crime: Hong Kong is being given a new lease on life. Square Enix acquired the rights from developer United Front Games, who had ceased development after publisher Activision cancelled the game. The game will be managed by Square Enix London Studios and will continue to be developed by United Front Games, who is based in Vancouver.
Square Enix did not acquire the True Crime IP, and is currently working on re-branding the game. There's also no word on when the game will be released, or what formats it will be released on. But one thing is clear – Square Enix is very excited about the game. Square Enix London Studios General Manager Lee Singleton said, "It's one of those games where you don't want to put the controller down; it's what we call 'sticky,'" and also mentioned the "incredible new game engine, rich new story with deep and complex characters, and gameplay features which have simply never been seen at this level in an open world game."
This is great news. I got a chance to see True Crime: Hong Kong at last year's E3, and frankly, I was completely blown away by it. I was shocked when Activision cancelled it and said it wasn't good enough. I am eager to see what Square Enix and United Front Games are going to do with it.
[Source: Gamasutra]