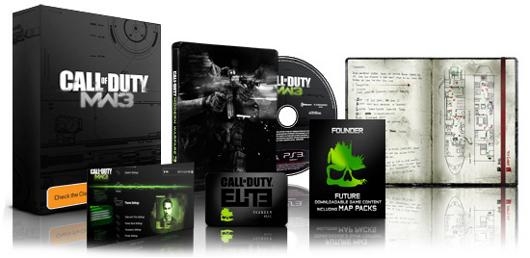 Everyone that attended the first ever Call of Duty XP festival will receive a coupon good for a copy of Call of Duty: Modern Warfare 3's "Hardened Edition" when it releases on November 8. For the rest of us, Activision has confirmed exactly what will be included in the "Hardened" steel packaging. It'll include…
The aforementioned SteelBook packaging.
A One-year subscription to Call of Duty Elite.
Call of Duty Elite in-game bonuses including emblem, playercard, weapon camouflage, clan XP boost and more.
Exclusive PS3 "Animated Timeline" theme.
Exclusive Xbox 360 "Spec Ops Juggernaut" Avatar outfit.
100-page field journal with military sketches and written entries detailing the Modern Warfare saga.
Call of Duty: Modern Warfare 3 game disc with exclusive artwork.
The Call of Duty: Modern Warfare 3 "Hardened Edition" is available to pre-order now for $99.99 at online retailers everywhere including Amazon.