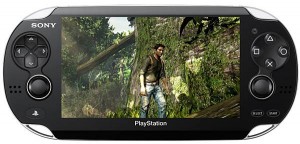 Quite a bit of info about Sony's new handheld has been released over the summer, but prospective buyers only had a few games to wrap their heads around. Now, a press release from Sony details a longer list of games, some additional system specifications – including battery life – and a list of accessories that will be available shortly after the system's release.
First off, it looks as though the handheld's battery life won't be much better than that of the 3DS, with an expected gameplay life of 3-5 hours. It appears that charging the handheld from 0% battery life will take that same amount of time. Not too quick of a turnaround, it seems.
Most of the accessories are standard protocol – memory cards, earphones, etc. However, listed for Spring 2012 are a Vita Car Adapter and a Portable Charger. It looks like Sony is – at the very least – aware of the concern with battery life.
Anyway, onto the good stuff! Hit the jump for the list of games.
Some of the notable/recognizable games include:
BlazBlue: Continuum Shift Extend
Ultimate Marvel vs. Capcom 3
Katamari Damacy (working title)
Disgaea 3: Return (the Disgaea 3 remake)
Uncharted: Golden Abyss
Little Deviants
Dark Quest
A new entry in the Shin Megami Tensei series (interested to see what this one is)
Dragon's Crown
LittleBigPlanet Vita
Ys: Foliage Ocean In Celceta
Super Monkey Ball
Final Fantasy X HD
Ninja Gaiden Sigma
Others on the list are extremely vague, with working titles as simple as "RPG." However, it looks like the Vita will have a great mix of games, even if you only have 3-5 hours per charge to play them. The full list of games and specifications can be found here.