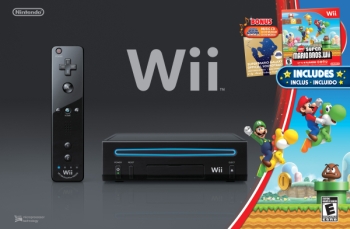 Nintendo is readying a new Wii bundle for this Fall that includes some new items, but subtracts one thing we've come to expect with the Wii system.
The bundle will be available on October 23 all decked out in black with a Wii Remote Plus, Nunchuk, and Wii system. The package will also include a copy of New Super Mario Bros. Wii and a Super Mario Galaxy soundtrack CD. The bundle price is the now standard $149.99 you'd expect to pay for a Wii.
But under the hood the console will be slightly different. This Wii system has been modified to operate in a horizontal position only. It'll also be lacking GameCube support:
The newly configured black Wii console sits horizontally rather than vertically and is designed exclusively for Wii game play and entertainment experiences (GameCube software and accessories are not supported).
In case you haven't bought a Wii yet and need backwards compatibility, the original Wii console with support for GameCube games and peripherals will still be available in stores priced at $149.99 (and including Mario Kart Wii).