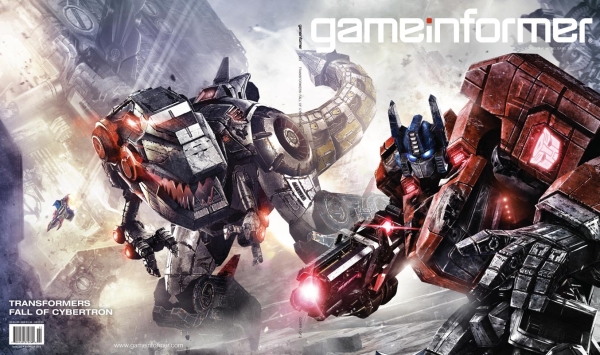 Activision and developer High Moon Studios have announced that the war for Cybertron will continue in next Fall's Transformers: Fall of Cybertron. The game will be receiving the Game Informer cover treatment with two different images. The first, which you can see above, features fan-favorite Grimlock alongside Optimus Prime. The second, which can be seen at GameInformer.com, features the possible death of Bumblebee. No!
Fall of Cybertron picks up right where Transformers: War For Cybertron left off and it promises to retell the "final, darkest hours of the civil war between the Autobots and Decepticons as they fight for control of their dying planet, ultimately leading to their storied exodus from home."
"High Moon Studios is an extremely talented development team having raised the bar of gameplay and Transformers authenticity in their games," said David Oxford, Executive Vice President at Activision Publishing. "Transformers: Fall of Cybertron is an extraordinary project both for the studio and the Transformers gaming legacy – the stakes are higher and the scale much larger than ever before, and we absolutely cannot wait for fans to see all the new characters and epic action that awaits them."
Platforms for Transformers: Fall of Cybertron weren't announced, but a PS3 and Xbox 360 release seems likely.