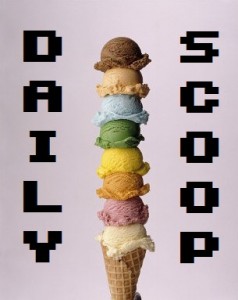 Tuesday is here, and Black Friday is looming! The deals around the Internet have been totally off the hook (and those Target commercials are really getting on my nerves!). Our editor, John Scalzo, has been hard at work amassing all of the Black Friday deals in one place. Behold:
Amazon's also got a boatload of deals happening as well. Their Deal of the Day in video games is Warner Bros' Lego Rock Band, which is just $9.99 for the PS3 version today. Today only they've also got Resistance 3 with Sharp Shooter for $69.99. They've also got new weekly deals:
And that's not all! Amazon's also got Gold Box deals in video games as well:
11 AM PST/2 PM EST: This game combines magic based combat against otherworldly enemies with platforming and puzzle-solving gameplay. It's Castlevania: Lords of Shadow for $19.99 on Xbox 360!
11 AM PST/2 PM EST: Xbox 360 Kinect 4GB Bundle with $100 Credit
12 PM PST/3 PM EST: These two award-winning classics are now available for the PlayStation 3 remastered in HD with full stereoscopic 3D support This one is the Ico and Shadow of the Colossus Collection for $24.99!
1 PM PST/4 PM EST: This title gives global football fans a truly realistic, immersive and a delightfully playable take on the beautiful game. This is Pro-Evolution Soccer 2012 for $39.99 on PS3!
1 PM PST/5 PM EST: Single-handedly destroy an army of monsters and evil spirits with lightning-fast swordfighting action.
3 PM PST/6 PM EST: Grab your PlayStation Move motion controllers and step into the dark and gritty underground of bare knuckle brawling.
4 PM PST/7 PM EST: You have six days to rescue an entire country plunged into chaos by a brutal revolution.
5 PM PST/8 PM EST: This multiplayer baseball game delivers a true Major League Baseball experience for gamers on the PlayStation 3 platform.
Whew. On top of that, there are two great gaming shirts today…
First one is Ript's "Mushroom Avenged:"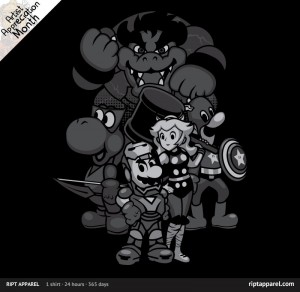 The second one is from Shirt Punch, and is a hilarious Star Wars/Pokemon mashup called "PokEwok:"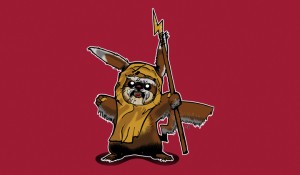 Seriously, seriously want that second one.